Whether it is for a first-time tandem or more advanced training, the School Centre of Cahors Skydive helps you in the discovery of skydiving and free fall.
Découvrez les sentations fortes de la chute libre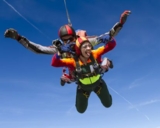 Tandem Skydiving
Thanks to tandem skydiving, come and discover the sensations of skydiving, with 50 seconds of free fall at more than 200 km/h!
En savoir plus
Sensations fortes garanties !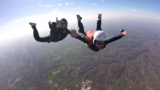 AFF / PAC / Traditional trainings
Be able to jump on your own after on a few days!
En savoir plus